Top 12 Things To Do In Panama City Beach
Panama City Beach is famous for its brilliant sunshine, miles of beautiful white sand beaches, emerald green waters teeming with colorful marine life and unlimited outdoor activities. A destination to relax, unwind and soak up the sun! But there is more, so much more, when you visit Panama City Beach!
Go on, be a daredevil… Start planning your Panama City Beach vacation today!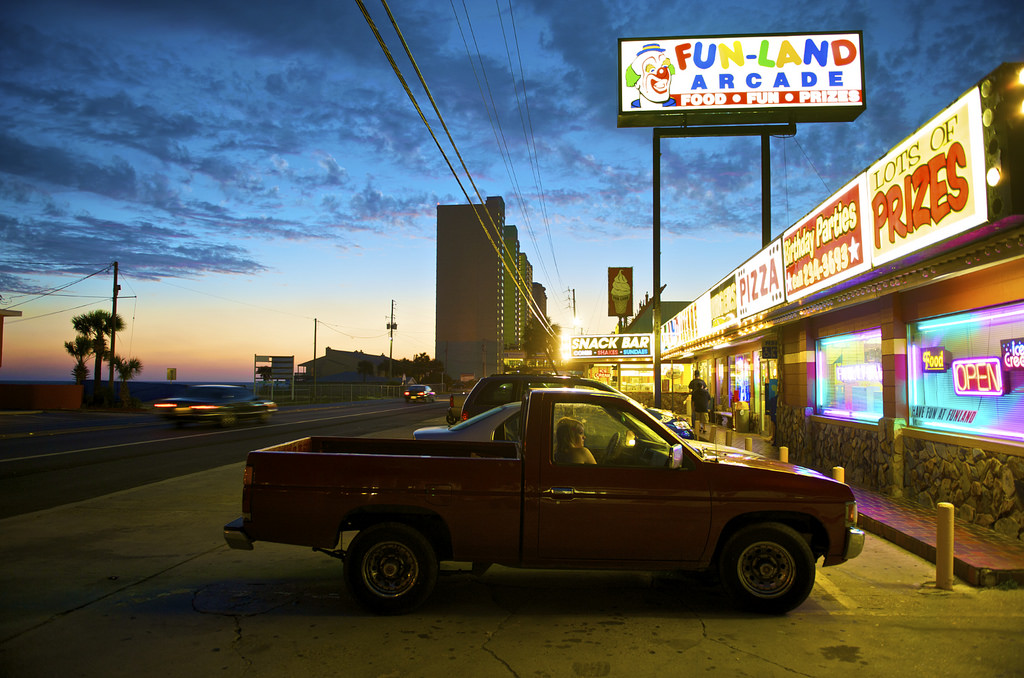 Unlimited adrenaline pumping attractions, speed thrills and fantastical amusements for toddlers, teens and tired parents! Whatever tickles your fancy is right here in Panama City Beach. Swim with dolphins, reach dizzy heights on a roller coaster ride or launch yourself from a giant slingshot! Let your imagination run wild at Panama City Beach's top 10 attractions.
1. Shipwreck Island Water Park
The ultimate fun for kids of all ages involves water, and Shipwreck Island is the wettest and wildest waterpark in Panama City Beach. This 20-acre park in a tropical setting has it all! Slides, rapids, wave pool and a lazy river. Tadpole Hole is the cool place to be for the little ones or step up the pace for the teenagers (and adults of course) on the thrilling Raging Rapids, Pirates Plunge and Treetop Drop.
2. Gulf World Marine Park
Discover a colorful underwater world at the Gulf World Marine Park. Fill your day with animal shows and exhibits as you explore the indoor and outdoor tropical gardens, pet the stingrays, swim with dolphins or even become a trainer for the day. Enjoy world class illusions and special effects at a night show in the Tropical Garden Theatre or book your kids into a day camp for a little bit of adult time! This is the ultimate adventure for animal lovers and a fun educational experience of a lifetime.
3. Cobra Adventure Park
A small beachside family amusement park, Cobra Adventure Park offers fun and entertainment for everyone! Ride the roller coaster of the century, the Max Flight Simulator, while the kids have fun on the Dragon Wagon, a kids-only coaster. Get lost in the electronic games at The Arcade, explore four levels of go-karting, putt your way around the mini pirate course at Smuggler's Cove or take it to the extreme on the Wild Thing or Vertical Accelerator rides.
4. WonderWorks
WonderWorks, an upside-down house and amusement park for the mind, is jam-packed with hands-on exhibits, interactive experiments and rides at every twist and turn. A perfect blend of science and thrilling entertainment. Battle your way through the laser tag maze, spin upside down on the 360° Bike, work the knots on the Rope Challenge Course and travel backwards in the virtual Wonder Coaster. WonderWorks promises an adrenaline rush from start to finish!
5. Ripley's Believe it or Not
Step out of one mind-blowing attraction and into another! Across from WonderWorks is Ripley's Believe it or Not, a museum of bizarre oddities. Traverse a myriad of beams in the Laser Race, buckle up for a 4D movie and learn of distant lands. Ripley's is an adventure for both young and old with unusual and educational exhibits for the whole family.
6. Zoo World
Experience a wild adventure at the exotic Zoo World, and enjoy a personal encounter with some of nature's most amazing creatures. Bottle feed a tiger, pet a wolf, take a selfie with a giraffe or play zookeeper for the day for the ultimate animal experience. A wild adventure where fun is never endangered.
7. Race City PCB
Not only will you find the fastest, tallest and steepest Go-Kart tracks at Race City, but it's also home to the famous Hurricane Roller Coaster! Once you catch your breath, move on to experience the rise and fall of the Sky Coaster hauling you 130 feet into the air! Indoor putt-putt, bumper boats and a huge indoor arcade thrill toddlers and teens over and over again! The good news? Free admission for mom and dad and unlimited armbands to let the kids ride all day long at a great price!
8. Pirates Island Adventure Golf
Step back in time to the days when pirates ruled the seas, treasure ships hoarded gold and buccaneers ruled the villages. Everyone loves adventure golf, even more so when you are putting your way over streams, past waterfalls and through hidden caves to the top of Pirate Mountain where you can enjoy panoramic views! A fun day for the whole family with two challenging 18 hole courses.
9. Pier Park Amusements
Pier Park is not only an amusement park, it's a lifestyle center and entertainment hub. A great place to spend a family day shopping, dining, watching movies and experiencing thrilling rides. After browsing the stores or munching popcorn at the IMAX, grab your mat and ride the five-story-tall Euro Super Slide, touch the sky in the Sky Tower or ride the 1952 Carousel.
10. Rock'it Lanes
Your one-stop-shop for family fun in Panama City Beach is Rock'it Lanes, a 50,000 square foot entertainment mecca. Reserve a cosmic bowling lane, rent some old-school roller skates and hit the rink or stir up some friendly competition in the Mega Arcade. After you and your family have worked up an appetite, head to the sports bar and grille or the family-favorite, CiCi's Pizza. Rock'it Lanes has been voted as the "best place to take your kids" in Panama City Beach!
11. Sea Screamer Cruise
Head out on the water in a spacious turbo powered boat manned by the most fun and informative crew around! Take in the beautiful scenery around Shell Island and along the world's best beaches. Enjoy a background of tropical music and sea-tales from the crew while snapping pictures of the dolphins and other sea creatures swimming alongside the boat. Their 2-hour excursions are perfect for little sailors and adults alike.
12. Adventures at Sea
Make the most of your time on the world's most beautiful beach. Adventures at Sea is your go-to resource for water sport rentals, sailboat cruise reservations and more, with 60 locations along the beach. Whether you're looking to relaxing on the beach in one of their comfy lounge chairs or kick up your adrenaline on a parasailing adventure, be sure to stop in and see how they can help you get the most out of your Panama City Beach vacation.
---
For the best of the best in vacation condo rentals,
VIP Beach Rentals
offers beautiful
Panama City Beach vacation condo rentals
on the east end of the beach on the quiet end of Thomas Drive, yet within minutes of the thrills and spills of Panama City Beach's best attractions. A perfect vacation awaits you!